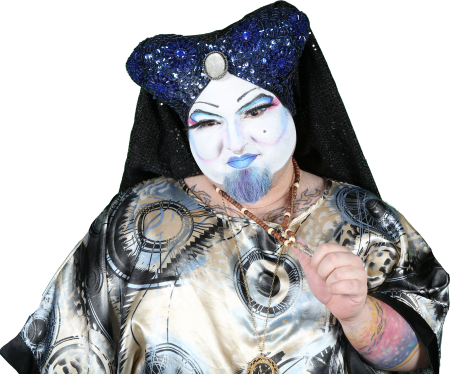 Sister Ima Miracle
Born the first time:
March 24th ~ Just close enough to being a Pisces that I can be rather emotional at times.. and just far enough into Aries that I can be rather stubborn. Alyson Hannigan (Willow on Buffy) & Harry Houdini share my special day.
Born again:
Boston Pride 2009 was when I first heard my Calling and found Sr. Eunice X marching with the Leather Contingent… shortly after I met up with her for coffee and began the discernment process.
Your Family Tree:
Ima was originally born Trixie Rhodes Raimondo-Reeves, a Duchess in the Imperial Court of Massachusetts.. she ran away one night and joined the Convent of the Commonwealth.. a name change and some white face and it's the rare Noble that recognizes her now.
What is your lay occupation?
I work in the hospitality industry as a Restaurant Manager for a major hotel. Long shifts and strange hours are my norm.
Describe the path leading to your Calling to the Order:
I've always been active with volunteer work.. wether working at a Peer Hotline in high school.. or doing two years of AmeriCorps.. or volunteering in the Imperial Court system. Giving back to my communities has always been a focus of my life. My mother is an Episcopal Priest, and I was recently Initiated into the Victor Anderson Feri Tradition of American Witchcraft. Spirituality has also been a centering focus of my life. It shouldn't be any surprise that I heard a Calling to be a Pagan Drag Nun.
Explain your interpretation of The Ministry of Perpetual Indulgence:
Everyone has a right to express themselves.. to live a life of pleasure and fun.. to indulge in whatever brings them joy. Everyone has the right to be respected and loved.. and our Ministry is to encourage those around us to live a life of right action according to their personal compass.. without guilt, without shame, and with much celebration.
Do you believe in miracles?
Ima Miracle… and so are you. Say it out loud now.. I'm A Miracle.
I'm glad we agree.
And what other principles guide your practice as a nun?
"How we spend our time shows what we think we love, what we are devoted to, what we worship."
~T Thorne Coyle
"Once you choose hope, anything's possible."
~Christopher Reeve
"Your task is not to seek for love, but merely to seek and find all the barriers within yourself that you have built against it."
~ Rumi
Final thoughts?
"The way you make love is the way God will be with you."
~Rumi