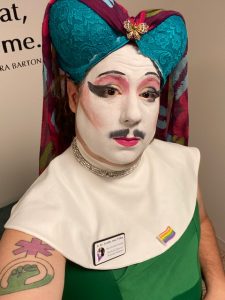 Mistress of Propaganda
Mistress of the Web
Mistress of Archives
Email: freddie.anne.willing@gmail.com
Aspirancy Declared:                                December 19th, 2019
Elevated to Postulant:                             April 21st, 2020
Elevated to Novitiate:                              April 20th, 2021
Elevated to Fully Professed Member:   July 18th, 2022
Mother: Sister Lida Christ
Big Sisters: Sister Rosetta Stone, Sister Shiny Brite
Little Sisters: Sister Judy B Good
My Calling
My first significant experience with the Sisters was at a work event two years before my aspirancy. I was very involved with the LGBTQIA+ employee resource group hosting the event. One of our members knew a sister, and we invited them to participate. I got to work with the Sisters in a logistics role and, as part of the event itself, told my personal coming out story. Afterwards, I was able to speak with the sisters directly and they impressed upon me how much good could be done by working directly with the community. I've done volunteer work for years, speaking about my personal experiences at conventions, running games, and working at a queer call center. I've had a hard time balancing my desire to give, and my personal energy. However, my wife never forgot my connection with the Sisters on during that one work event. Once at new job, with no LGBTQIA+ responsibilities, I grew restless to find someway to still help the community. I took the time to compare local groups, and met with the Mistress of Novices. The sincerity of the house's ministry is powerful. We make the community stronger and strengthening each other. The house also bears a heavy responsibility to continue to improve. We walk a line that requires constant self-reflection.
My Ministry
I'm drawn to a ministry of ushering. It's a word that can bring many images to mind. It starts with welcoming, but that's not where it ends. So many people feel that they do not have a community to belong to. Gatekeeping is common, easily fed by fear and misinformation. Welcoming people into your space is important but must be followed with action. Remind people they belong. Help people find the seat that feels right. Support their journey within the community and they'll know they belong and begin fighting for others.
Three Tenets By Which I Pledge To Live and Practice
Bring joy and reflect joy freely given.
Do not judge the authenticity of others.
Have the patience to listen and lift up many voices.
Five Ideals By Which I Pledge To Live and Practice
Joy, Empathy, Respect, Action, and Assistance