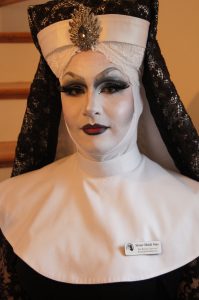 Heidi Sins
Born the first time:
In the month of Virgo, in the year of the Rabbit… does that mean that I am an ancient furry virgin?!
Born again:
After stalking the Sisters of Perpetual Indulgence on-line and seeing them doing their magic at events around the city, I finally mustered the courage to express my interest in becoming involved with the Boston Sisters of Perpetual Indulgence on July 10th, 2016! Best decision EVER!
My journey (a timeline):
Aspirancy Declared:                                            August 16th, 2016
Elevated to Postulant:                                        October 18th, 2016
Elevated to Novice Sister:                                 February 21st, 2017
Elevated to Fully Professed Sister:               August 15th, 2017
My family tree:
Mother –                Sister Rosetta Stone
Big Sisters –           Sister Eunice X and Sister Gloria LeLuia
Daughters/Little Sisters:  As noted, I am a "furry virgin", and so not letting this figure go…  My time will come when everything sag and head way far south, tick-tock ol' biological clock!
Description of my path leading to my Calling to the Order:
For a while, I have had a fascination with the Organization of the Sisters of Perpetual Indulgence. When, during Boston Pride 2016, I saw the Boston Sisters in the Pride parade – (do not know how I missed all the glitter in previous years!!), I was very happy to see that there is an active Boston Convent…
Early the very next morning the horrific shooting happened in the "Pulse" Nightclub in Orlando, Florida. While trying aimlessly to process the reality of the gruesome attack on the LGBTQ+ revelers in a nightclub (irrespective of the shooters motives and intentions which were still not clear at that time), I wondered how I could make a difference? I realized that if I was in "Pulse" that evening, I would have left this life having done nothing for the community of which I am a part. This was a shaming and disappointing feeling to endure, and that is when I had my Calling which urged me to reach out to the Sisters and try to make a change, even if it is only a very small one, for the betterment of my community.
My interpretation of the Ministry of Perpetual Indulgence:
Allow and encourage those around me to be their true authentic self – no judgment, only love and respect! Encourage all to really own their own happiness, and appreciate the freedoms that we enjoy in this country – do whatever you need to do to find your inner joy, as long as you do not hurt yourself or anyone/anything else. Raising funds and awareness to help others that are not as fortunate as us is an added bonus, so is the unrestrained consumption of gallons of liquid eyeliner!
Three tenets by which I hope to serve my community:
Tenet 1 – Be honest and forthcoming with myself and others.
Tenet 2 – Be respectful and open to the ideas, beliefs and convictions of others – especially if they differ from my own.
Tenet 3 – Be caring and considerate in my interactions.
Five Ideals by which I hope to serve my community:
Gratitude, Diversity, Tolerance, Integrity, Respect