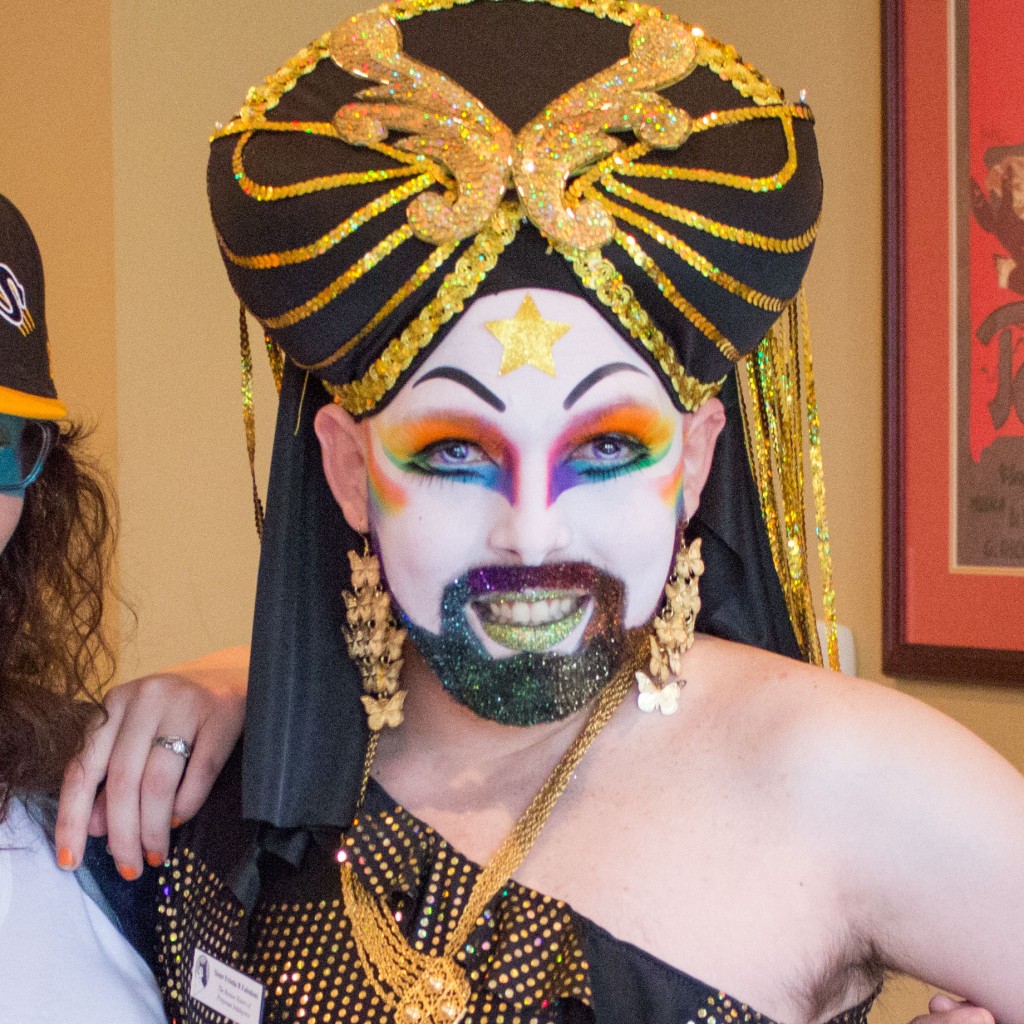 Sister Frieda B Fabulous
Before meeting the Sisters, I was a shy gay man in his lates 20's living in the suburbs of MA with a passion for makeup, photography and women's clothing. It was no doubt fate that the  cute man I messaged online was none other than the secular version of Sandra Musique. As our relationship eventually developed, it was impossible to avoid inevitably meeting the Sisters and falling in love with them. Aesthetically, they represented everything I had a love for: extreme makeup, lots of sparkle, and a generally garish, overdone wardrobe. I had the calling for many, many, many months before I reached out to the then Mistress of Novices, Eunice X. Being shy, it wasn't an easy step to make, especially knowing that I'd be launching myself into a group of people that were the polar opposite.
It wasn't until I became a postulant with the white face and lovely tan jumper that I began to come out of my shell. I realized the power that we had in the community to approach people with statements we Massholes would reject from any normal person on the street. There may be those who would oppose us, but we stood as a group as bait against them, revealing their extreme judgmentalism or narrow-mindedness. I've never seen it as my job to be confrontational when such situations arise, but rather to analyze the situation from a logical perspective and try to understand WHY they feel so volatile.  HOW can we overcome that? Without that understanding, I feel it's impossible to achieve our goal.
I've come to convince myself that each and every person out there has some redeeming quality. There is something nice to say about everyone, even those who try to tear us down. If you tell me I'm going to hell because of what I do, I'd be much more likely to complement you on your gorgeous eyes than initiate a war of words that will do nothing to change the zealot.
In this sense, I suppose I'm a pacifist. I'd prefer to fight our war with pure wit and patience rather than verbal bloodshed. That, to me, is an exercise in non-judgmentalism. While fighting that war, however, I plan to look fabulous.