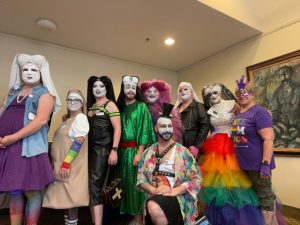 Sisters Faith N. Humanity, Isaiah Prayer, Jessa Belle, Rosetta Stone, Tori D'Affair, Novice Sisters Freddie Anne Willing, Queerdo and Postulant Sarah, along with Mamma Pax and friends and family of the Sisters met up in a meeting room at the Hotel Providence to get ready for the Illumination Pride Parade in Providence RI.  After we were all set we set out to crash the wedding that was going on at the Hotel Providence to thank the happy couple for letting us use the meeting space during their wedding and to spread some love and joy on their special day.  We found them and everyone including the staff starting snapping pictures and taking video of us.  We found the bride dancing on the dace floor.  We started dancing with her and everyone else.  We formed a circle around the dance floor and all 8 of us took a turn dancing with the bride.  After we headed back to the meeting room to finish getting things ready for the parade.
With a rainbow wagon and some some beach carts filled with confetti poppers, speakers, bubble machine, beads, lasers and smoke machine.  Yes smoke machine.  We made the way to the staging area not realizing how windy and cold it had gotten.  Neither wind nor the cold, veils and dresses flying up was going to stop us from the first major Pride event since the pandemic started.  After a long wait the parade kicked off at 8:00 pm.  We were off to a huge crowd.  All the streets were so crowded.  There was an estimated over hundred thousand excited people watching the parade.  The whole crowd was so excited that this was happening along with us.  The crowd seem to get very louder when they spotted the Sisters,(might also have to do with the 2 carrying our banner who was getting the crowd going dancing and wearing next to nothing), waving, taking pictures, wanting to shake our hands, take beads from us.  We set off a lot of confetti poppers along the way which they seem to love.  We reached the end of the parade.  Then headed back to Hotel Providence to rest, pack things up.  Everyone that was traveling back home messaged Sister Faith that they made it home safe.  Some of us was here for the whole weekend.  Thank you all that attended.
Thank you RI Pride and Hotel Providence for making this a great Pride.