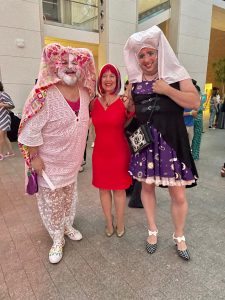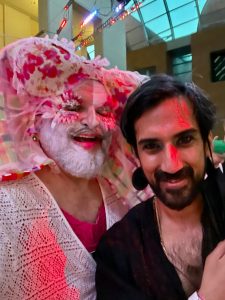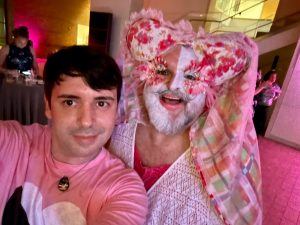 After a day with their shoulders at the wheel at their respective mines, Freddie Ann Willing and Rosetta Stone arrived at Peabody Essex Museum in Salem and met up with our contacts Danielle Olsen, and Siddhartha Shah.
After a quick manifest (PEM has some rules on full face paint) the Sisters got to tasks, greeting and directing seating for patrons arriving for a curatorial conversation.   Rosetta took the role of introducing the curators and Ana Matronic, who chatted about the designer Patrick Kelly (for which PEM has an upcoming exhibit "Runway of Love"
Once the talk was over, we split up and circulated in the main atrium, talking with patrons.  The music kicked off and as the daylight waned, the floor got even busier with folx raising joy.
Around 10 pm, the Sisters called "pumpkin time", retreated to the studio space PEM graciously provided, demanifested, and headed out